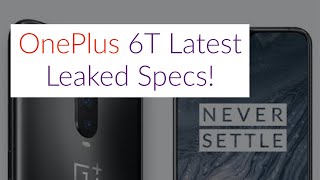 OnePlus 6T Detailed Specs from Leaked Website - Comparison with OnePlus 6!
This just in... we found the specs of the not yet released OnePlus 6T on the GizTop website:
https://www.giztop.com/op6t.html/
This video includes a run down of the specs. There are 5 main differences from the OnePlus 6:
smaller notch!
bigger screen!
bigger battery!
android pie!
in-screen fingerprint detector!
big camera upgrade!
Will you be buying the new OnePlus 6T? Which feature are you most excited about?
Get your own OnePlus using this link and get $20 towards cool accessories for using the link!:
https://bit.ly/2LYMDQT
Thanks for watching!